We are changing the Uke Club date until Mondays. Some students will take part at school, some will ZOOM in.
Please scroll through this page for a variety of ukulele resources, such as, ZOOM log in, How to tune, play alongs, etc.
The Ukulele Orchestra of Great Britain has a great page for the Lockdown with tons of playalongs and lessons!
Mr. Ogren is inviting you to a scheduled Zoom meeting.
EVERY MONDAY @ 11:00 am
Topic: Ukulele Club
Time: This is a recurring meeting Meet anytime: Join Zoom Meeting
ZOOM Meeting Link for Ukulele Club
https://us04web.zoom.us/j/72796527538?pwd=ckFmL1RwYVVISWVVRHJUVWFzZVRNdz09
Meeting ID: 727 9652 7538 Password: 029159
How to Tune your Ukulele (I have re-posted this video as there was an issue with original)
My First Attempt at Ukulele Play Along – "Rise by Walk Off The Earth and Gabrielle B
Some of our usual warm up and play along pieces. You guys all know this is one of my favourite Ukulele Play Alongs. If you want to learn the Chucking Strum watch past the play along, Cynthia has some great tips.
Some more songs with C, F & G: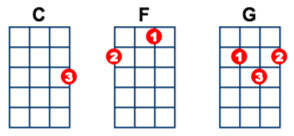 You Are My Sunshine – This piece also has a great starting finger picking lesson for picketing through the chords.
LAVA This is the full version that we played (I know that it has G7 and C7 but you can play them as G and C if you want).
2 Versions of Three Little Birds:
Three Little Birds: Our regular warm-up version with the strum pattern practice
Three Little Birds: Without the strum practice warm ups
SOME SONGS WITH AN Am too!
I'm Yours This one has a Hawaiian D7 too
Girls Like You (Clean Version)
Some extra Challenge:
Rainbow Connection with Kermit
FOR A CHALLENGE! I'm working on this riff pattern too: